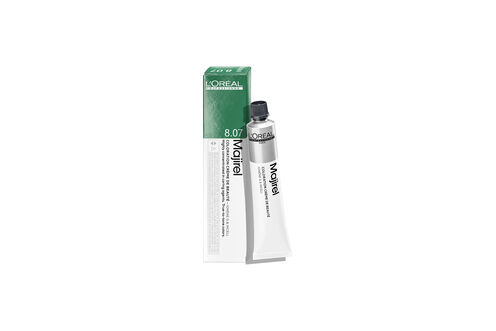 Highly advanced Majirel technology gives an unrivalled colour result, guaranteeing perfect coverage of white hair. The formulation allows for unlimited personalised colour results. Develops in 35 minutes. For best results use with L'Oréal Creme Oxydant.
Majirel or Majirouge should be mixed in a 1 to 1.5 ratio, i.e. 50ml (1 tube) of Majirel or Majirouge + 75ml of L'Oréal Professionnel Cream Oxydant 20 volume (6%) or 30 volume (9%) + up to ¼ tube (12.5ml) Majirel Mix. Development time is 35 minutes. INTENSIFYING TECHNIQUE (COPPER, COPPER RED, RED, YELLOW) 0% to 50% white hair: apply the desired colour, mixed with up to ¼ tube of Majirel Mix. For 50% to 100% white hair: increase the proportion of Majirel Mix up to ½ tube SPECIAL EFFECTS Use Majirel Mix alone on select pieces of pre-lightened hair to create intensely coloured highlights on your client's hair Lighten selected pieces of hair with Platinium Plus in order to obtain a yellow to pale yellow undercoat, using Easi‑Meche® Ultra to isolate the hair. Emulsify and rinse thoroughly, taking care to retain the isolation of the pieces Apply Majirel Mix shade mixed with L'Oréal Professionnel Cream Oxydant 20 volume (6%)
Ask more information about this product
Please be aware that ingredient lists for the products of our brand are updated regularly. Please refer to the ingredient list on your product package for the most up to date list of ingredients to ensure it is suitable to your personal use.
Majirel Mix
- Majirel
4 Shades
Pure reflect mixers enriched with Ionène G™ and Incell to strengthen, protect and maintain the integrity of the hair. • Hair is 45% more conditioned after colour* • Intensify, neutralise or personalise • true to tone, long lasting colour results *Vs condition of hair that does not contain Ionène G